Liana Vesga, M.D.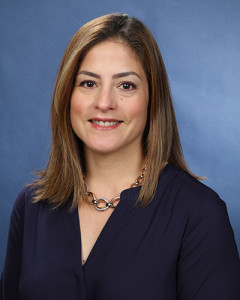 Dr. Vesga is a native New Yorker and has completed most of her education in the Northeast. However, after falling in love with San Francisco following a trip she took in high school, she made her way to the Bay Area for her gastroenterology fellowship at the University of California at San Francisco. Despite loving New York, not only did the Bay Area's natural beauty and great lifestyle win her over, she met her husband here and decided to settle in the area and join East Bay Center for Digestive Health. She enjoys treating all aspects of gastroenterology and focused her training on inflammatory bowel disease which she maintains a special interest in. She is dedicated to providing comprehensive care and education to all her patients. She also enjoys the opportunity to teach medical students and residents at Highland General Hospital/Alameda County Medical Center.
When not practicing medicine, she enjoys exploring the Bay Area sites with her husband by biking and hiking as well as starting a new family and practicing her parenting skills with their feisty cat and new young rescued German Shepherd.
Areas of Interest:Inflammatory bowel disease and the full range of general gastroenterology with expertise in diagnostic/therapeutic procedures including colonoscopy, endoscopic retrograde cholangiopancreatography, and endoscopy.
College: Boston University, Boston, MA
Medical School: University of Pennsylvania, Philadelphia, PA
Residency: Hospital of the University of Pennsylvania, Philadelphia, PA
Fellowship:University of California San Francisco, San Francisco CA
Board Certification: Gastroenterology, American Board of Internal Medicine
Internal Medicine, American Board of Internal Medicine
Languages
Spanish
Address
300 Frank Ogawa Plaza, Suite 450
Oakland CA 94612
Telephone